Regarded as the wedding capital of the country, it should come as no wonder why Catholic couples would flock to Tagaytay to tie the knot. With the Taal Lake just over the horizon, Tagaytay often makes a compelling case as a wedding venue considering the whimsical, rustic and romantic vibe. That, complemented with the climate and overall feel of the place makes it a prime choice for weddings all throughout the year. With that said, it is inevitable for the country's wedding capital to have its fair share of beautiful Tagaytay churches and chapels to suit any Catholic wedding.
Unlike any other wedding ceremony, Catholic unions should be celebrated and solemnized in a church or chapel with a presiding priest. In this regard, selecting a church or chapel for the wedding is not only an initial, but pivotal step as well in a Catholic couple's wedding plans. After deciding on a church, couples can now freely choose any wedding reception venue as well as plan out other details for their wedding. If you are one of the Catholic couples who wish to tie the knot in the country's wedding capital, it is imperative to decide on a wedding date and book your church at least a year in advance. As weddings in Tagaytay are popular, booking in advance ensures that you can celebrate your wedding in the church or chapel of your choice. If your wedding falls on a weekend or during peak months such as December and January, looking and reserving  church 1 1/2 to 2 years earlier is usually recommended.
Below is a list of some of the most beautiful Tagaytay churches and chapels for your destination wedding:
1.) Madre de Dios
Located in premium leisure development, Tagaytay Highlands, Madre de Dios is a gorgeous chapel that is making waves among couples who wish to tie the knot in Tagaytay. Albeit located in Batangas, Madre de Dios is in proximity to Tagaytay which still makes it one of the excellent options for couples who wish to have a Tagaytay wedding. While the chapel might look nondescript from afar, its sophisticated and luxe interiors make for an ideal place to say your "I do's". In fact, if it is not for the cross atop a small tower, the chapel would seemingly look like a big Spanish house with a rust-orange tiled roof and white stucco walls. However, these are the very accents that  lend a Mediterranean touch to the chapel's overall atmosphere. The chapel has a capacity of 200 people with wide windows at the side and more than enough light to illuminate its interiors. It is a portico that serves as a driveway at the entrance with just a few steps leading up to the door and while the aisle may be short, the serenity of the surroundings often makes up for it.
2.) The Transfiguration Chapel in Tagaytay
Featured in many Filipino films, the Transfiguration Chapel in Tagaytay is undoubtedly the city's most beautiful church. Also known as the Caleruega Church, the Transfiguration Chapel in Tagaytay requires a bit of a drive to reach. It was named in honor of its founder by Filipino Dominicans. Perched atop a hill and surrounded by verdant greenery, the church is not only a famous wedding venue but a popular tourist destination as well–particularly during the Lenten season.  
3.) Chapel on the Hill
A two-hour drive from Metro Manila via Tagaytay City, Chapel on the hill is just a few minutes away from Caleruega. As it seats only a hundred guests, the Chapel on the hill is ideal for intimate and quiet weddings. With its glass walls offering a 180-degree view of the chapel's expanse and surrounding garden, tying the knot here often feels like giving your wedding ceremony a natural touch. Tourists who wish to have a breather from the city will certainly enjoy the tranquil environment as well as the sanctity of the place that makes it perfect for prayer and meditation.
4.) Our Lady of Lourdes Tagaytay
Our Lady of Lourdes is one of the churches in Tagaytay that provides easy access for tourists and soon-to-wed couples. As the church is located along the Tagaytay-Nasugbu Highway, travelers should not have a difficult time finding it. Apart from being a well-known church for weddings, the church is also famous for its Candle Chapel where parishioners often use a colored candle which corresponds to a specific prayer. The church makes for a beautiful wedding ceremony as it has beautiful fixtures such as the garden-like altar, water fountain and plaza-like front yard.
5.) San Antonio De Padua in Tagaytay
Couples who wish to lend a rustic touch to their wedding ceremony will certainly find San Antonio De Padua in Tagaytay the perfect place to tie the knot. The church features an elegant rustic facade that exudes a Portuguese charm as well as a three tier brick bell tower beside its chapel perfect for wedding photos.
6.) St. Benedict Church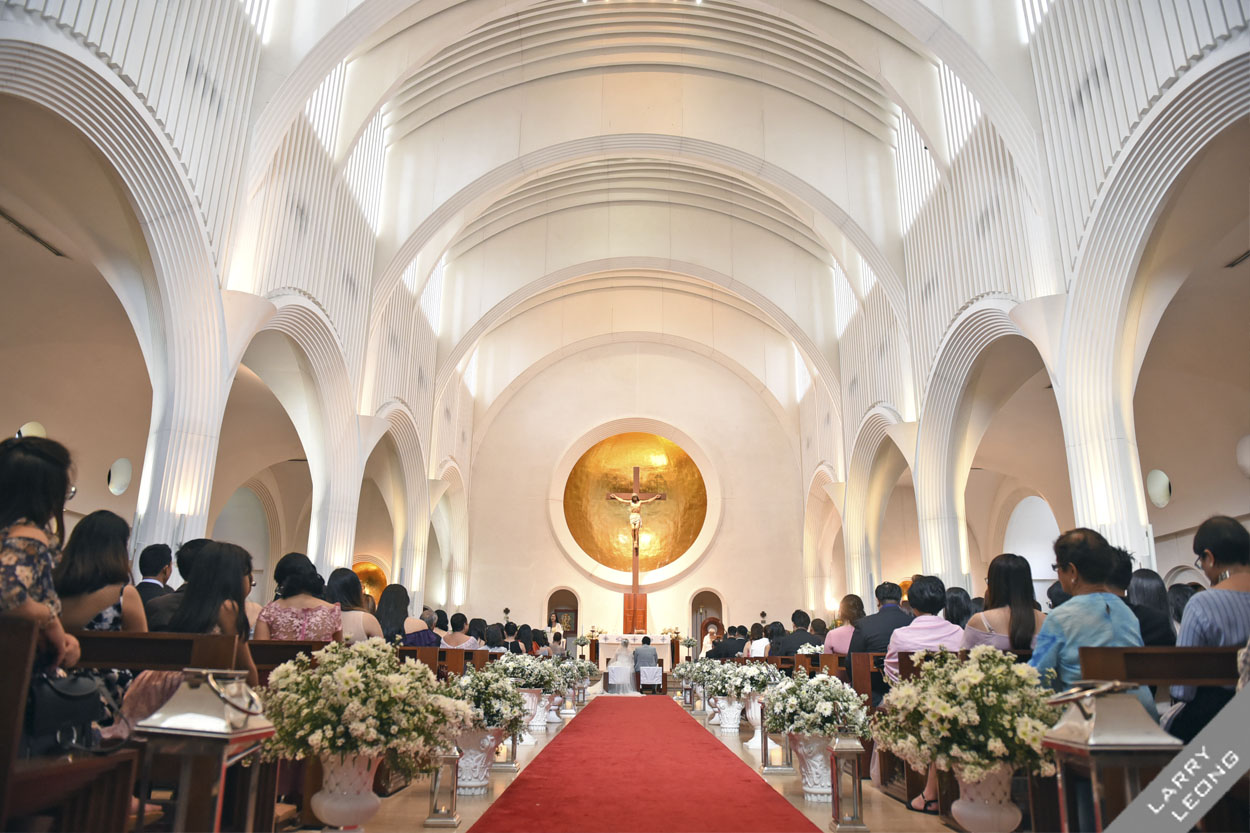 Known for its modern design, St. Benedict Church is an ideal place to wed for couples who wish to give their weddings a contemporary touch. Situated near Ayala Westgrove Heights, the church is known to be one of the most romantic venues to tie the knot. Tucked away in Metro Tagaytay, St. Benedict features modern architecture and contemporary design with high ceilings and beautiful arches that make for a serene and romantic ambiance.
7.) Our Mother of Perpetual Help/ Ina ng Laging Saklolo
With pastel-colored interiors and stained glass windows, Our Lady of Perpetual Help makes for a cheerful backdrop for any Tagaytay destination wedding. The altarpiece of this church is inspired by natural elements which would make it an excellent complement to your garden themed wedding. With its ornate chandeliers to complement the understated ceiling, Our Lady of Perpetual Help makes for an elegant place to get married in.
With the seven churches and chapels listed above, you can now peruse and consider your options and plan your destination wedding accordingly. However, if you have been wondering what makes Tagaytay the famous wedding destination of the country–enough to warrant its name as the wedding capital of the Philippines, below are just some of the reasons why:
FIVE REASONS WHY TAGAYTAY IS A POPULAR VENUE FOR DESTINATION WEDDINGS
Proximity to Manila
Tagaytay is roughly about a couple of hours away from Metro Manila depending on where you are coming from and traffic. Considering its proximity to the metropolis, many couples would opt to select it as a wedding destination seeing as it would be an accessible place to visit for a majority of their wedding guests. Most destination weddings require you to fly or cross seas just to have that amazing scenery and breathtaking backdrop. Tagaytay only requires a drive and once there, you will be transported into an entirely different place to satisfy your dreams for a destination wedding without compromising the convenience of your guests with its distance.
The Beautiful Scenery
As the wedding capital of the country, it should come as no wonder that Tagaytay would have no shortage of beautiful churches. Even Tagaytay churches and chapels are known to be some of the most beautiful places of worship in the country. As a picturesque and scenic city, couples would not need to go overboard with their wedding decors when the place itself already lends so much to the overall beauty. With the sky-high pine trees, vast greeneries and majestic Taal Lake complemented with the cold climate, Tagaytay is truly a magical place to tie the knot.  
Privacy and Intimacy
Most city weddings often mean hosting big banquets and elaborate parties. In some cases, it would even mean inviting almost everyone you know. However, weddings in Tagaytay are rather subdued but no less magical. Couples who prefer to have a smaller and more intimate wedding would typically tie the knot here. Despite its proximity to the city, Tagaytay's remote location is often a good factor for couples to select only a number of people to their wedding. As a result, weddings are less crowded which gives the couple more time to interact and talk to their wedding guests.
A Number of Suppliers
One of the biggest deterrents in planning a destination wedding is often the high cost it entails when it comes to booking suppliers. When the location does not come with its own share of wedding suppliers, couples are often compelled to hire someone from the city and fly them all the way to the wedding venue at the couple's expense. However, owing to Tagaytay's increasing popularity as a wedding destination, there has been a growing number of suppliers that includes everything from caterers, event coordinators to photographers. With that said, couples no longer need to worry about the exorbitant cost of hiring suppliers seeing as they already have a variety of choices in Tagaytay.
Wedding and Honeymoon in One
Slated as one of the most romantic places in the country, it is no wonder that so many couples wish to tie the knot in Tagaytay and spend their honeymoon in. As Batangas and Cavite are nearby, couples who wish to have a wedding and honeymoon in one can do so in Tagaytay. Tagaytay itself is already a beautiful place to visit so couples need not go far if they wish to tie the knot and spend their honeymoon in the country's wedding capital.
Indeed, a destination wedding in Tagaytay often spells a memorable celebration. With the change of scenery and having only a select number of people with you on your special day makes your wedding more magical and unforgettable.